Boozy Sex On The Beach Cocktail, 18% ABV, 500ml, 7-8 Servings, Just Add Orange Juice, Premium Ready Mixed Cocktail
The cocktail known as Sex on the Beach is as famous for its provocative name as it is for being refreshing and fruity. Its origins are lost and when or where the drink was first made is unknown. Popular liquor lore gives credit to a bartender in Florida who created it in 1987 as part of a promotion to sell peach schnapps by a liquor company. This is belied, however, by the fact that the drink was already included in the 1982 edition of the 'American Bartenders School Guide to Drinks'.
Arguments about origin aside, some consider the cocktail to have been invented from a combination of a cocktail called a Fuzzy Navel (consisting of orange juice and peach schnapps) with a drink called the Cape Codder (consisting of cranberry juice and vodka). The combination of these drinks accounts for the constituents of the Sex on the Beach cocktail. While some recipes call for a small amount of crème de cassis, this is considered entirely optional.
Ingredients
1 1/2 ounces vodka
1/2 ounce peach schnapps
1/2 ounce Chambord or creme de cassis (optional)
1 1/2 ounces orange juice, freshly squeezed
1 1/2 ounces cranberry juice
Garnish: cocktail umbrella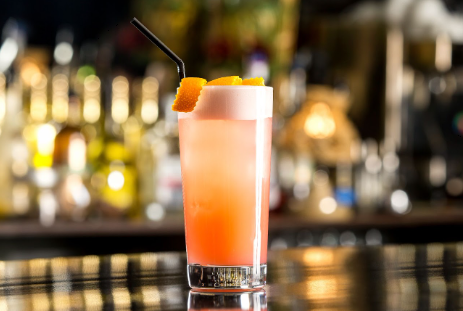 How To Prepare
1.Add ice to glass
2.Shake Boozy Sex On The Beach pre mix
3.Pour mix into glass (adjust to taste)
4.Add orange juice
5.Enjoy!
Boozy Cocktails Ready-to-Drink, Sex On The Beach, 18% ABV, 500ml, 7-8 Servings, Just Add Orange Juice, Premium Ready Mixed Cocktail
The Sex on the Beach cocktail was popular in the 80s and 90s where it was a must on any cocktail menu but has since fallen from favour as craft cocktails underwent a renaissance. It remains popular at beach bars and is a favourite among young vacationers.

Sex on the Beach is an easy cocktail to make so you shouldn't have any difficulty mixing it for a cocktail party. Using fresh orange juice adds acidity and results in a more refreshing drink. Although some prefer to substitute pineapple juice for orange juice, using the latter will result in the classic. You can use any reputable vodka for the mixture since it is mainly there as a base for the peach liqueur and fruit juice which provide the major taste. When making it first merge your ingredients then try out a sip to transport yourself back to a beach bar where you first tried it.