The ultimate luxury Margarita cocktail gift set with alcohol, glasses and shaker from Boozy! For men and women. Contains everything you need to make 2-3 Margarita cocktails, complete with 500ml of our premium pre-mixed cocktail, 250ml cocktail shaker and x2 finest quality ravenhead glasses. We've also thrown in a recipe card and instruction video! Simply add the contents to the shaker, shake and pour! All presented in a beautifully branded Boozy presentation box, this gift set will make the perfect gift for cocktail lovers everywhere! No hassle cocktail making.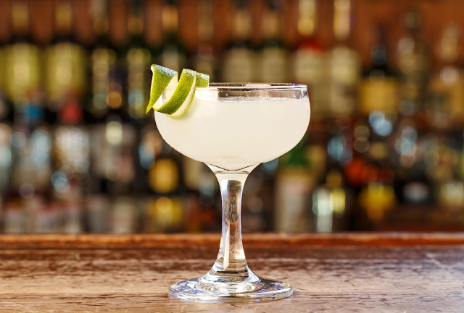 How To Prepare
1. Place glass in fridge for 30 minutes
2. Gently shake the Boozy pre-mix pouch
3. Pour 150ml into the shaker
4. Add ice to the shaker and shake
5. Serve into glass
6. Garnish with lime
7. Enjoy!
Boozy Margarita Cocktail Alcohol Gift Set Box With Glasses & Shaker, 500ml, 4-5 servings, 18% ABV, Premixed Cocktail, Shaker, x2 Ravenhead Glasses, In a beautiful presentation box
Many believe the cocktail was created in 1948 in Acapulco, Mexico by a Dallas socialite who combined Cointreau, Blanco tequila, and lime juice for the first time. A competing theory argues that the name Margarita (which means daisy flower in Spanish) suggests that the cocktail was based on the 'Daisy' which was a cocktail that consisted of citrus, spirits, an orange liqueur, and soda. By making this cocktail with tequila and removing the soda, on this argument, you get the Margarita. Regardless of when it was first created, this cocktail has earned its place among cocktail drinkers' favourites.

When making a Margarita, make sure you use quality tequila. You should choose a Blanco type that is made from 100% blue agave - anything else means it's made up of up to 49% of mystery alcohol. Also, make sure you use fresh lime juice. While you may be tempted to use a pre-made sour mix, fresh lime juice results in a far superior result.

Many connoisseurs regard the orange liqueur as a mandatory ingredient. Others regard it as optional and use agave syrup instead to provide the sweetening element that this cocktail requires. If you do this, however, you will be mixing a Tommy's Margarita. This approach to making the Margarita is credited to a San Francisco restaurant, Tommy's Mexican Restaurant, which began making it this way in the early 90s.

Although it's easy to get lost in debates about who invented the Margarita or argue about whether to use salt or not; source frozen or blended fruit; add Triple Sec, Grand Marnier, or Cointreau; the following recipe is tried-and-true and produces the best Margarita - make it this way and your guests will always be impressed.